One of the main objectives of The Girlcott is to highlight companies that have created healthier cosmetic and personal care product alternatives for consumers.
Please check back to review the growing list of brands that will be represented at our event on April 18th.
They are truly pioneers in a multi-billion dollar industry where the never-ending battle for shelf space and consumer loyalty is a daunting undertaking. But with your support they will someday become household names across America.
Chartreuse sells reusable products, organic cleaning, body care and baby and kid's products through independent consultants and select retailers. Our mission is to change the image of green products by offering effective, reasonably-priced, attractively-packaged, earth-friendly products. None of our products contain Sulfates, DEA, Parabens, Mineral oil, Phthalates or Animal products. They are scented with pure essential oils and do not contain artificial colors or fragrances. We fully disclose all ingredients and never test on animals.

CleanWell™ All-Natural Hand Sanitizers and Antibacterial Hand Washes kill 99.99% of germs including MRSA, Staph, and Salmonella but contain no alcohol or harsh chemicals. CleanWell is safe for kids, gentle, never tested on animals, and biodegrades quickly and completely. Learn more at www.cleanwelltoday.com

"The Girlcott program is a fabulous way to have each of us stop and take a closer look at the products we're bringing into our homes and show us how easy it is to take action and make choices that are safe for our families. It's fun and easy and we get to come together at one of the beautiful spots in San Francisco, the Presidio."
- Holly Bornstein, Marketing Director, CleanWell
Glimpse™ Intuitive Skin Care is the first and only topical skin nutrition product in the world to deliver the performance driven nutrients of the mangosteen through clean and toxin-free formulations. As a signor of the Compact for Safe Cosmetics, you are ensured performance based nutrition without the use of harmful toxins.

"We are so excited to be a part of The Girlcott! What a great organization. We must raise awareness of the cosmetic conspiracy that is sickening our population. Together we can make a change!"
— Bethany Robbins, founder, iWantaGlimpse.com
Good For You Girls is 100% Natural Skin Care for the growing girl. Made with premium ingredients that pamper and protect young skin while keeping it safe from hormone altering chemicals. Way to go, moregreenmoms!
"The Girlcott is a fabulous idea. So glad Good For You Girls can be a part of it."
— Kimberly Grustas, Founder, Good For You Girls.

In the tradition of artisan French bakers, Marie-Véronique Organics' products are handmade with carefully selected all natural ingredients. We draw from the knowledge of a trained esthetician as well as the scientific expertise of a physicist to develop skin care essentials that do not contain chemicals, fillers, parabens, waxes, or synthetic fragrances; our products are 60-90% organic; and every ingredient is chosen for its ability to contribute to the health of your skin.
"Voted among the top 10 sunscreens by the Environmental Working Group's Skin Deep experts, Marie Veronique is excited to support The Girlcott to showcase our safe, high-quality products. We are proud to participate in the growing movement to ensure a healthier beauty industry for all consumers."
— Hillary Peterson, COO, Marie-Veronique
Hand-selected by teenagers for safety, sustainability, and practicality, the Teens Turning Green Collection was launched September, '08 at Whole Foods Market nationally. The unprecedented eco body care line for teens is a partnership between Teens for Safe Cosmetics, a coalition of young women and men dedicated to raising awareness about the health risks from ingredients in our daily use products, and seven companies with "green" brands. TTGC features a cross-section of the best skin and body care products on the market. They attain the Whole Foods Market Premium Body Care Standard, setting the bar for the "cleanest" products in retail.

Where you'll find superior Mineral Cosmetics that we manufacture with a focus on safe, natural, and healthy ingredients for your skin and body. We stand by our promise of making our products without petrochemicals, synthetic fragrances, parabens, synthetic pigments and dyes. We use only the most natural of minerals that are uncoated and kept as close to nature as possible.We continue our commitment to honoring the ethical compact we've signed with www.safecosmetics.org by offering Loose Mineral Makeup.

TheSimpleBody.com is a one-stop shop for healthy and safe makeup and skin care products in full and sample sizes. We support, promote and encourage green and clean companies that produce fantastic and safe products at a reasonable price.
"Conscious Consumerism, lead the way! Because the safety of the personal care products that we use on a daily basis remains largely unknown, we are forced to take a stand and demand safer products. Join the Girlcott today!"
— Lea Morgenstern, Founder, TheSimpleBody.com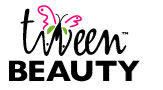 At tweenBeauty, we hope to provide the beginning of a path for kids to lead a life full of healthy and conscious choices and a life free of pollutants and toxins. We work to provide tweens with the knowledge and understanding necessary to choose products in their lives that are safe for themselves and for the environment. We want them to know that safety doesn't mean a compromise in fun and style. We hope that tweenBeauty products will help them envision and create a world where all products are responsible and safe.
"tweenBeauty is excited to support The Girlcott in San Francisco - we all need a little help learning how to live healthier lives. Thank you to organizers of The Girlcott for giving girls of all ages, especially tweens, the opportunity to detox their sanctuaries (i.e. bathrooms) and fill them with cleaner, safer options for their beauty routines."
— Dana Shamas, CEO, tweenBeauty
As much as 60% of topical skin-care products are absorbed through the skin and into the bloodstream. Say Dr. Nancy Lonsdrof, M.D. an lowa-based physician. They should be consumed with the same prudence that we use to choose our breakfast cereal. April 2006 issue of Women's Health Magazine. There are many toxic chemicals in cosmetic products that have been clinically proven to cause cancer, tumors, irritation and many different skin disorders. 100% products are truly 100% Pure-no synthetic chemicals, chemical preservatives, artificial fragrances, artificial colors, harsh detergents or any other unhealthy toxins.